Hello bibliopals! I didn't just succeed at my reading target this year (to read 25 books), I smashed it (I've read 38 books), whoo! But how many of those would I actually rave about? Here are the few that make my shortlist of best reads in 2019*.
*Note: I do not mean published in 2019.
1. EMPIRE OF SAND by Tasha Suri
I cannot rave about this enough. It's a thrilling romantic fantasy adventure. Compared to the saturation of european fantasy novels, this one shines through with its medieval Indian inspiration. The blood-magic is dark and devastating, yet never disgusting. My heart ached for the protagonist, and my curiosity always longed to see more of the world and its people.
Each character is rich in complexity, the politics are easy to grasp yet carefully developed, the setting and magic blew me away. The romance is a gripping slow-burn that evolves into an emotional pyre, sundered and shaped by the terrifying forces of man and gods.
If you read only one fantasy novel next year; if you're unsure about fantasy novels in general, try this one. I borrowed it from the library and loved it so much that I bought my own copy and preordered Suri's next book. I cannot. Rate this. Highly. Enough.
2. THE HUNDRED THOUSAND KINGDOMS, by N. K. Jemisin
Published in 2010, this is not a new book. But this is HANDS DOWN, one of the best fantasy books I have ever read.
Considering the sheer size of kingdoms and characters, this is never confusing for a single moment. It focuses on the protagonist, Yeine, a young woman from an Amazonian-type country who is thrust into a Game of Thrones situation. Except add some murderous gods into the mix. She must compete with her despicable, white cousins to inherit the throne or risk her country being slaughtered.
This was like a murder mystery, wrapped up in a romantic fantasy, and polished off with deadly politics. Aside from an incredible plot and a wonderful protagonist, I adored the gods, who are the next biggest characters within the story. I've never read gods who are so-very-almost-incomprehensible and yet totally empathetic.
This was just magical. Stunning. UGH. I have such writer envy. UGH. I LOVE IT.
3. CONVENIENCE STORE WOMAN by Sayaka Murata, translated by Ginny Tapley Takemori
I don't really know how to tell you that this was a good book, but I loved it. The story is about a convenience store worker named Keiko Furukura who suffers from Asperger's Syndrome-like symptoms. It is a book about the place of the mentally ill, and what constitutes as normality. It is both a cynical look at Japanese social expectations and a humorous poke at life. I feel like it had quite a positive ending, in its own strange way.
You could probably read this in one sitting. Totally bizarre. Utterly fascinating.
4. THE GODDESS CHRONICLE by Natsuo Kirino
As a foreigner, trying to wrap your head around Shinto – Japan's native religion – can feel like stuffing your head into a jar of bees and feeling confused that the bees scream and also belch fire. There are a lot of gods, there are a lot of unique customs, there are so many things that seem absolutely bonkers… But this modern novel puts a fragment of it into shape, and in a compelling narrative that doesn't feel like bewildering screaming monster bees.
It tells the story of two sisters who are destined to be priestesses for one of Japan's tiny islands. Namima, the protagonist, is assigned at birth to be the priestess of death – a terrible, tainted prospect. It's a story of defying destiny, centuries of vengeance, bitter love, betrayal, and Japan's religious origin story. Do you want ominous customs and walking gods? Look no further.
Seeing the world primarily through Namima's eyes helps take Western readers on a journey into the strange and emotional. Also, it's simply a great read.
5. IN AN ABSENT DREAM by Seanan McGuire
This is the fourth book of McGuire's Wayward Children series. You could start with this book. But all volumes are worth your time. They're short, too! You could absolutely read one in a day or two.
The Wayward Children series is about odd children who escape the world as we know it by accidentally entering magical, hard-to-find doorways. The world's they enter have answered the bizarre, shapeless longing in their heart.
In an Absent Dream is about Lundy, one of the characters from book 1, Every Heart a Doorway. Aside from book 1, this is probably the best instalment. It's a heartwrenching account of being divided by family love and what your heart truly craves – explored through the lens of a world filled with centaurs, pies, pencils, and hair turning into feathers. This book is profound in its simplicity and painful relatability. An incredible coming-of-age story.
6. SUSPICIOUS MINDS (Stranger Things) by Gwenda Bond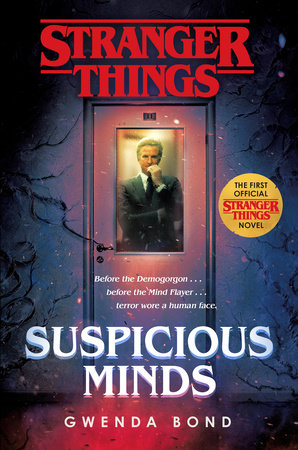 I don't think I've ever read a book that ties into a TV series before? I'll be honest, I picked it up with minimal expectations. In fact, I expected to give it back to the library after a couple of chapters.
But I was hooked. Even though I roughly knew the outcome, having watched Stranger Things, I was gripped in discovering how it happened. I desperately wanted Terry (the protagonist and Eleven's mother) to find a way to escape unscathed. I know from the TV show that Terry's fate is awful, but still. I fell in love with her and her friends. I couldn't help being sucked into her plight and feeling a range of strong emotions.
As a side note, it was interesting to read a sci-fi set during the US-Vietnam War. It's not a period of history that gets much coverage in UK schools, so I feel like I gained something there, too.
If you're on the fence, or if you never considered reading this, I would fully recommend it.
7. CALM CHRISTMAS by Beth Kempton
This is a non-fiction book on How Not to Freak Out About All The Stresses of Christmas.
I was actually dreading Christmas this year for a number of different reasons. Reading this book helped me reconnect with the things I enjoy and helped me to reshape my mental approach. Through a series of mindfulness exercises and thought-provoking questions, it has genuinely 'sparked joy' for the holiday season in ways that matter to me.
I look forward to doing more of its activities during the lull period between Christmas and New Year. If you feel stressed, or depressed, or anxious, or any combination of unwanted things about the holiday season, try this book.
8. THE SECOND SLEEP by Robert Harris
I never would have picked this up if I hadn't heard about it on Radio 4, which mentioned a much more gripping plot hook than is written for the blurb.
It's the 1400s and Father Fairfax goes to bury a parson in an isolated village, only to discover said man collected heretical artefacts – iPhones, straws, plastic dolls…
This was a compelling mystery with compelling characters. I wouldn't normally have enjoyed the ending, but after a few minutes of reflection, it felt just right. I could see it as a movie. There was a quiet, thrumming sense of danger always in the background, but never racing you along. Great pacing and, just generally, a very different kind of sci-fi. I loved it.
And there you have it. Out of 38 books, these are the ones I would heartily recommend and can say without hesitation: I loved them. Happy reading!
What are your best reads in 2019?